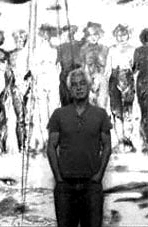 An artist with a diverse cultural background, Yossi Govrin often utilizes symbols resonant across cultural and national boundaries. An international relations and sociology major at Hebrew University, he studied art at Bethzalel Academy of Art in Jerusalem and was born in Iran.
Working in multiple media, he has exhibited nationally, internationally and been awarded numerous commissions (notably: a monument in honor of the late Prime Minister, Yitzhak Rabin installed in Rabin Square, Tel Aviv - site of the Prime Minster's assassination - and the bust of General James H. Doolittle, placed at the Santa Monica Museum of Aviation).
Aware of the need for artists to work in in a supportive and dynamic environment, in 1985 Yossi created Santa Monica Fine Art Studios, a studio and teaching facility for artists. He eventually expanded the concept to include an exhibition space devoted to cutting edge contemporary art with an invitational curatorial program in the new Santa Monica Art Studios, a project he realised in partnership with Sherry Frumkin located in the heart of Santa Monica Airport.