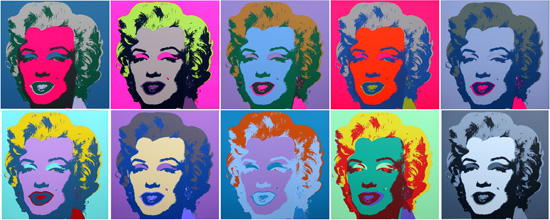 One day in the early seventies a young man walked in to my gallery when it was on La Cienega with two portfolios. In "one of those Factory moments,"Andy Warhol had personally given him his screens and the rights to print the Marilyn's and Flower's in different colors. On the back of the each 36" square screenprint, it says "Fill in Your Own Signature." I was amazed with the integrity of these fabulous "Marilyn's." After buying both portfolios, put them in a corporate job that had great taste, but a little budget… It was a stunning installation. Though they are not original Andy Warhol Marilyn Monroe Screenprints, these are the closest to be found and a lot of bang for the buck.
During a challenging recent design project for a Los Angeles condominium I remembered those incredible Warhol look-a-likes and called to find that wonderful young man still had the screens. Fortunately, the Sunday B. Morning editions can be found in our store and purchased individually or as a portfolio.
Barbara DeVorzon
:: Sep.04.2008 :: Marilyn Monroe Screen Prints :: No Comments »
Leave a Reply
You must be logged in to post a comment.